MSMEs play an important role in the country's economy, helping provide jobs and encourage development in rural communities. But the COVID-19 outbreak heavily affected them with over 525,000 MSMEs closing down in May. As one of the most affected sectors, the government started a lending initiative to help MSMEs recover from the economic impact of the pandemic. Here's everything you need to know about the MSME loans in the Philippines:
Pondo sa Pagbabago at Pag-asenso (P3)
This MSME loan program from the Small Business Corporation (SB Corp) aims to provide an alternative financial resource to MSMEs that borrow from 5-6 lenders.
Micro enterprises with an asset size not exceeding P3.0 million can borrow Php5,000 up to Php200,000 with a 2.5% interest rate.
How to Apply
MSMEs can visit SB Corp's partnered microfinancing institutions (MFIs) and/or cooperatives to avail the P3 Program. You can view the list of P3 Partner MFIs here!
Expanded P3 Programs for COVID-19
In response to the pandemic, the government expanded the P3 Program and provided COVID-19 loans for MSMEs to help them sustain their businesses during the pandemic.
COVID-19 Assistance to Restart Enterprises (CARES) Program
The CARES Program is a Php1 billion Enterprise Rehabilitation Financing (ERF) loan facility under the P3 Program. MSMEs can avail interest-free loans, helping them recover from the economic impact of the pandemic.
Through this government loan for small businesses, micro enterprises with an asset size of not more than Php3 million can borrow Php10,000 up to Php200,000. Meanwhile, small enterprises with an asset size of not more than Php15 million can borrow a higher loan amount up to Php500,000.
How to Apply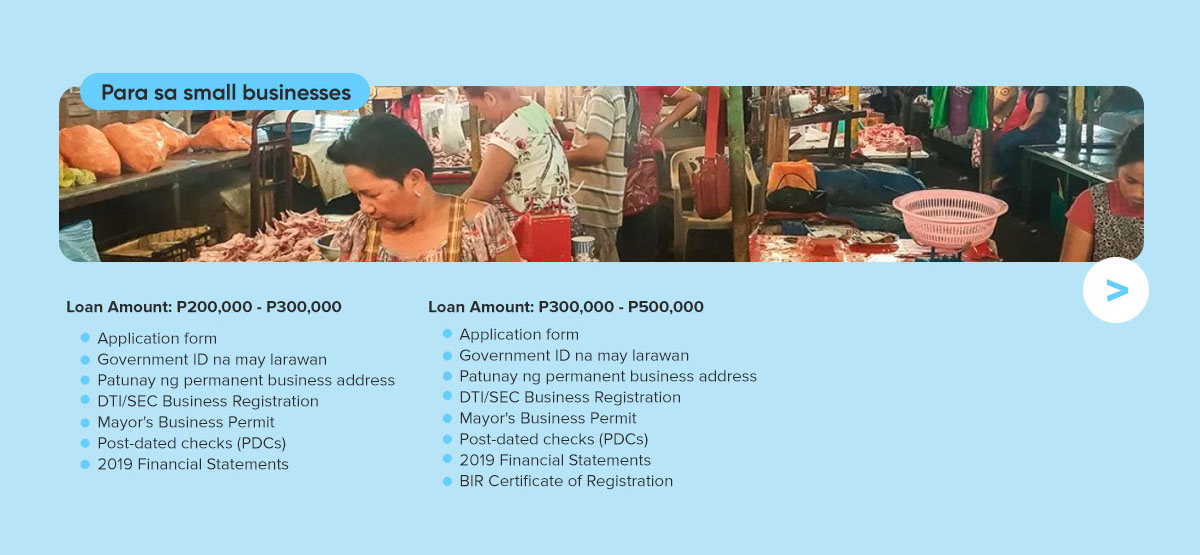 SB Corp reopened its second batch of online applications on August 17, 2020, naming it as CARES 2. It requires all MSE applicants to apply online and will no longer accept manual applications. You can send your application here!
Helping the Economy Recover through OFW Enterprise Startups (HEROES) Program
The HEROES program is also a part of the P3 program, providing a Php100 million loan facility to repatriated OFWs. It provides them with an opportunity to start their own business as an alternate source of income.
By availing this loan for Philippine MSMEs, applicants may borrow Php10,000 to Php100,000 that's free of interest and collateral. However, a 6% service fee will be charged to loans with 24 months payment terms while there's an 8% fee for loans with 36 months payment terms (inclusive of 12 months grace period.)
How to Apply
Applicants must first register for the Philippine Trade Training Center's online training for start-ups (access the form here.) Qualified applicants will receive instructions on how to apply for the MSME loan from the government after the training.
Through the MSME loans, the MSME sector can continue to support and improve their livelihood in the Philippines.
You can also check out agricultural loans for farmers, fishermen, and agribusinesses here!